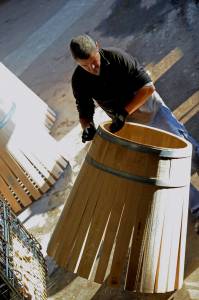 High standards and respect for traditional know-how

The Tonnellerie des Graves cooperage combines Portuguese tradition, French expertise and high-quality raw materials.

Noble material: French oak
The wine transport barrels and château-type Bordeaux barrels are exclusively hand crafted from carefully selected French oak from French forests (Allier, Jupille, Fontainebleau, Vosges, etc.)
The rough staves are sorted by hand in order to select the finest grained wood. The cooperage also has a wood yard where the wood is naturally matured for an average 24 month drying period, under hygrometric control.

Craft manufacture
Once the drying is complete, the work on the rough staves commences - tapering/bevelling, backing and hollowing out are carried out in order to produce the final staves which are then assembled.
The assembly phase is carried out used mounting hoops and, above all, calls on the expert techniques of the cooper. Once assembled, the barrels are wetted and heated to facilitate the bending of the staves.
At the end of this stage of manufacture, we have obtained the shell of the barrel.

Toasting (to bring out the wine aromas)
It is at this stage that we determine what level of toast to apply. The level of toast matters in terms of the flavour impact that the oak will have on the wine that will be stored in it. We carry out our toasting by hand and this involves the use of a brazier allowing us to release the oak's aromas, thanks to a MARQUES cooperage craft technique.

The MARQUES cooperage offers:
Medium toast
Medium+ toast
Long toast
Craft toast

Finishing and Quality Control
Then comes the stages of trimming and the cutting of the barrel heads to complete the manufacture of the barrel. The cooper then ensures that the barrel is impermeable by scalding it to eliminate any leaks.
To finish it, the barrel is planed and the heads are sanded to create an aesthetic appearance and to make it soft to the touch. The barrels are then stored in a cellar where the hygrometry is controlled.